About Me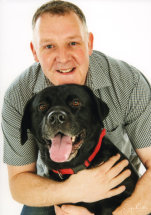 Even as a youngster I had a love for the great outdoors that probably started when I used to go walking in the Yorkshire Dales with my parents. then in my early teens I spent all my spare time fishing at a local river. In my late teens I developed a passion for motorcycling that is still with me today and spent most weekends riding around the dales and North York Moors.
Then in my twenty's I met a Scottish girl that would later become my wife. It was during visits to my wife's parents in Glasgow that my interest in walking was rekindled when we used to go for drives into the Highlands, so I used to take the opportunity to go into the mountains to bag some Munros (Scottish mountains over 3000ft high). The views that I was seeing up in the Highlands were amazing, so I would borrow my fathers camera to try and capture views. As this was before the dawn of digital photography I would have to wait for my film being developed to see my images that most of the time weren't very good, So I bought my first camera and started the long process of learning the art of photography where because of using film you had to get the image right in camera, a practice I still use today rather than spending a lot of time sat in front of a computer trying to make a good image.
Skip forward a few years and I have had images published not only in the UK and Europe but also further a field as well, so I decided to start my own website to show some of my work and hopefully people will like and appreciate my images.